Once upon a time at The Postwirt
Within the solid walls of the Postwirt the foundations for pure hospitality were made. The Postwirt combines traditional structure with a modern-day twist. There is something special about it, you can only feel once you are here. With our ambition for environmental sustainability, we want to ensure a future for the next generations.
It all started over 700 years ago…
The Postwirt looks back on a long and recorded history. Famous historic figures have set foot in our hotel and find out how a post house from the 13th century became a modern and upscale hotel.
Curtains up for the Postwirt
The first recorded mention of the Postwirt was in 1281. This proves it is the oldest and best-preserved building in the whole of the Wilder Kaiser Region. For centuries important political decisions were made in our small Bierstube.
Famous visitors at the Postwirt
During the Tyrolean Rebellion freedom fighter Andreas Hofer chose the Postwirt as his base for overnight stays. The then owner Josef Rainer was his fellow comrade-in-arms and a direct ancestor of the current Bliem family.
Over the centuries, the aristocracy used the Postwirt as their preferred stop-over on their exhausting travels throughout the country.
Historic site during World War II
On May 7, 1945 Head General Georg Ritter von Hengl of the Nazi-Wehrmacht surrendered to US troops in our Bierstube. After World War II was ended, finally life returned to normal and the Postwirt became a place for official ceremonies, weddings and family celebrations.
Over the decades we have developed from a very basic guest house with shared bathrooms and warm water at extra cost into a modern exclusive resort. The family Bliem is working hard to keep the high standard up; in 2020 we extended the hotel with a wonderful spa and wellness area, 3 swimming pools, suites and spa treatment rooms, but keeping the traditional style in mind. Our ambition is to constantly improve our standards.

At the heart of the Postwirt:
its people
We happily call ourselves "the Postwirt family" for a reason: Most of our staff have been with us for decades, which speaks volumes. We cherish everyone's individuality, which brings a dynamic and honest element to our friendly service. This makes the Postwirt one of the most successful hotels in the region. Not just for the guests, but for the staff too.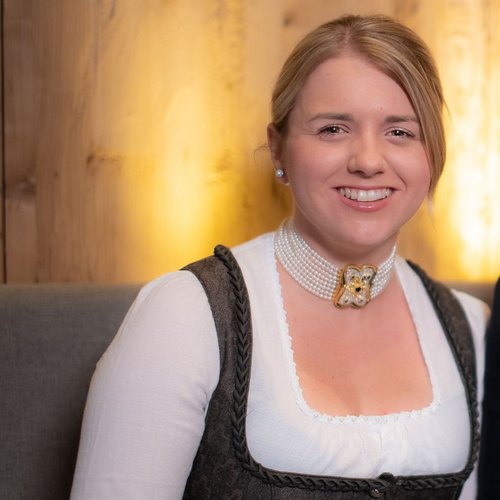 Christina started her working career in 2009 as an apprentice for restaurant service. Thankfully she also didn't leave as she fell in love with her boss Florian. As the good fairy of the hotel she is responsible for Human Resources, a happy working environment and the décor. On top of that she is a mother of three lively girls: Theresa, Sophie and Anna.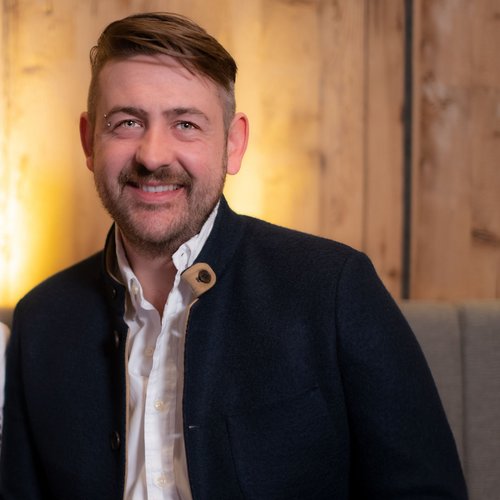 Florian was born in 1984 and was a part of the hotel from an early age. After school he worked for an exclusive hotel chain in the UK as well as in the hotel industry around Austria. He returned home to the Postwirt just to help out for a short period. That was 2008! He didn't leave, and since then he has done everything possible to help and develop the hotel. He is always around somewhere, pretending to be busy.
The Postwirt environmental circle:
Sustainability first
As we have had such a long, successful past we also feel responsible to make an equally successful and sustainable future.
Our nature is our greatest treasure and we endeavour to keep it that way. It is our mission to preserve this wonderful land for future generations. Above all we understand that sustainability is the only way to continue.
We proudly hold the Austrian Environmental Certificate to confirm our personal view on this matter.
This certificate proves we use our resources carefully and sustainably. We are willingly obliged to fulfil the highest ecological and social standards.
Eggs, bread, butter, milk, honey, jam and yoghurt- all come from local organic farmers in Soll. On top of that 80% of our meat is sourced in Austria. This means shorter routes of transport and highest quality standards.
We exclusively use bio-degradable substances for all our washing and cleaning products.
The Postwirt private forests:
We own 40 hectares of ecologically valuable alpine forest. Our forest provides not only the clear alpine air but also helps heat Soll in winter via the local biomass heating plant.
The Postwirt private water well:
The water used in the hotel is sourced from our private well.
Wherever possible we refrain from using plastic wrapping.
Green electricity and local bio mass heating plant:
We use clean energy produced with wood contributed from our own private forests. This energy is CO₂-neutral.
Free recharging unit for our electric car driving guests
We invite you to take part in our green option programme: For every day you decide not to have your room cleaned we will reward you with € 5 to your account.